Coahoma Electric Power Association was formed and chartered in 1937 by local citizens who wished to make electricity available for the rural area of Desoto, Tunica, Coahoma, Quitman, Bolivar, Sunflower and Tallahatchie counties.
This opportunity was a result of the Rural Electrification Administration being formed in 1935 as part of the "New Deal" plan outlined by President Franklin D. Roosevelt.
Since its beginning Coahoma EPA has worked to provide low cost electricity to its consumers throughout northern Mississippi.  Today, Coahoma EPA continues to provide low cost electricity with a strong commitment to quality service for all of its consumers.
Coahoma EPA is an electric cooperative governed by a Board of Directors elected by its members.  An annual meeting of the members is held each year on the second Thursday of February.  Information regarding the annual meeting is mailed to each member prior to the meeting date.
A current listing of the Board of Directors and the Bylaws of Coahoma Electric Power Association can be obtained by contacting our Coahoma Headquarters.
Our service are is broken into two sections: Lyon Service Area and Tunica Service Area. The Lyon Service Area is made up of five counties: Bolivar, Coahoma, Quitman, Sunflower, and Tallahatchie. The Tunica Service Area is made up of two counties: Desoto and Tunica.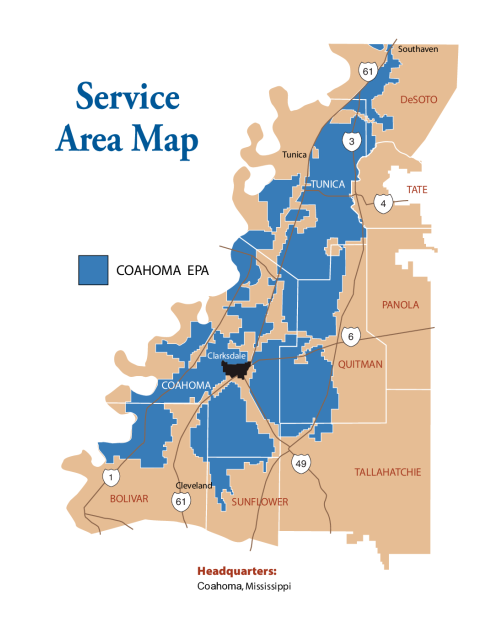 Lyon Service Area:

3355 Rudyard-Jonestown Rd.
Coahoma, MS 38617

Phone: (662) 624-8321
Coahoma Headquarters Hours: 7:30am - 4:30pm

After Hours: (662) 902-7551 or (662) 902-7552
CSR@coahomaepa.com

TunicaService Area:

3355 Rudyard-Jonestown Rd.
Coahoma, MS 38617

Phone: (662) 363-2931
Coahoma Headquarters Hours: 7:30am - 4:30pm

After Hours: (662) 363-5202 or (662) 363-5203